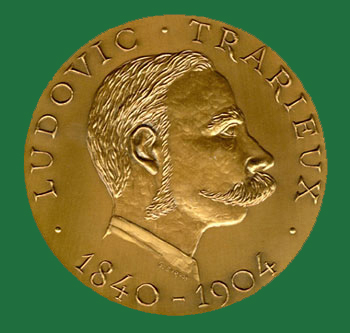 <![if !supportLineBreakNewLine]>
<![endif]>
Ludovic-Trarieux International-Human Rights Prize 2017
Prix International des Droits de l'Homme Ludovic-Trarieux 2017
Premio Internacional de Derechos Humanos Ludovic Trarieux 2017
Premio Internazionale per i Diritti Umani Ludovic Trarieux 2017
Internationalen Ludovic-Trarieux-Menschenrechtspreis 2017
Prêmio Internacional de Direitos Humanos Ludovic Trarieux 2017
Ludovic Trarieux Internationale Mensenrechtenprijs 2017
 Since 1984
"The award given by lawyers to a lawyer"
"L'hommage des avocats à un avocat "
"El homenaje de abogados a un abogado "
"L'omaggio degli avvocati ad un avvocato"
"Die Hommage von Anwälten zu einem Anwalt"
« De award gegeven door advocaten aan een advocaat »
THE LUDOVIC-TRARIEUX PRIZE 1985 (PDF)
THE LUDOVIC-TRARIEUX PRIZE 2017 (PDF)
Award ceremony of the
XXIInd

 

"
Ludovic-Trarieux" Human Rights International Prize 2017
VENICE
November 10th, 2017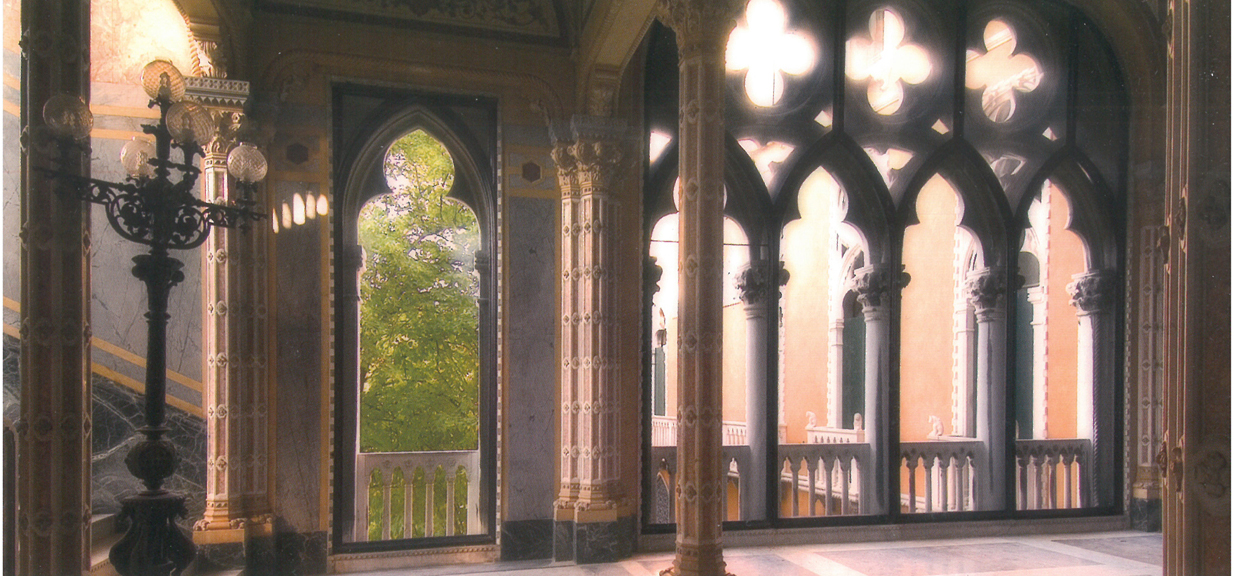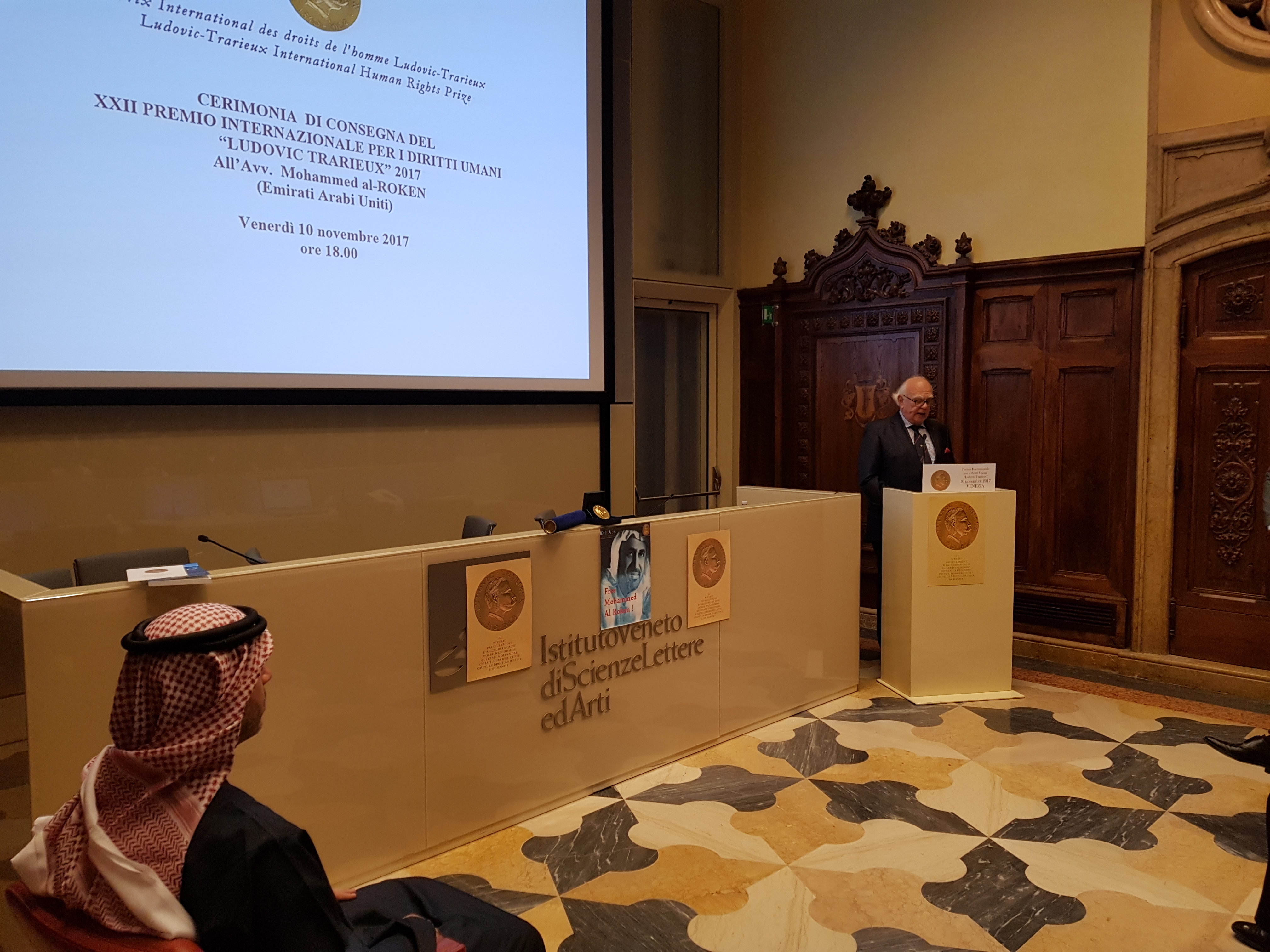 The award ceremony of the XXIInd  Ludovic-Trarieux International-Human Rights Prize 2017 took  place on  November 10th ,  2017 in the Venetian Institute for Science, Arts and Letters, Palazzo Franchetti, Venice (Italy).
A Special Tribute to  Barreau du Baloutchistan
Thierry BONTINCK (Bruxelles)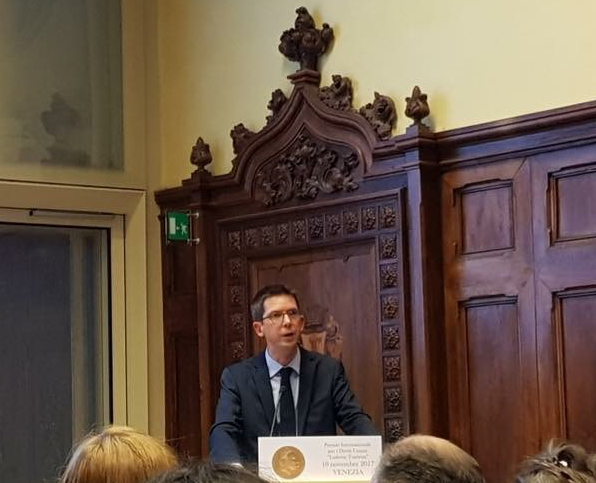 THE SPECIAL TRIBUTE BY EUROPEAN LAW SOCIETIES AND  BARS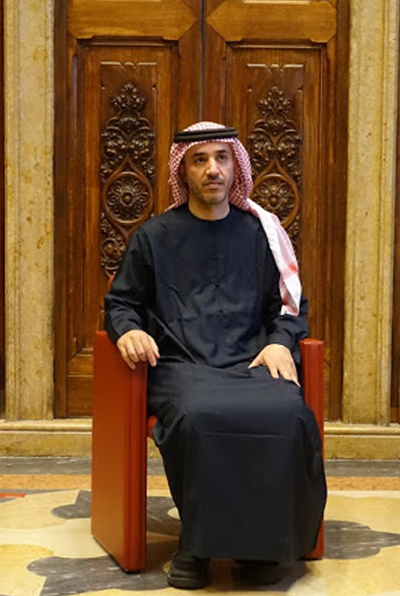 given by
Dr Bilinç ISPARTA – Berlin (Vize-Präsident Berliner Rechtsanwaltskammer) See Full text in pdf here
Pt Anton Giulio LANA – Roma  (on behalf of  UFTDU) See Full text in pdf here
Mrs S. REIJNDERS-SLUIS - Amsterdam
<![if !vml]>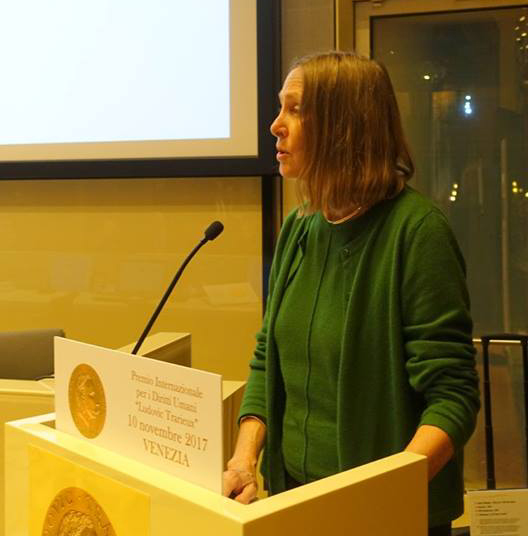 <![endif]> Thank you very much for the opportunity to express, on behalf of the Amsterdam Bar Association, our great respect to mr. Mohammed al- Roken, and also to you, mr. al-Saqer, for all the efforts you made to defend human rights and the rule of law despite the serious risks and the increasing repression in the United Arab Emirates.
On july 2, 2013 mr. Al-Roken was sentenced to a 10-year prison term convicted of "establishing an organisation that aims at overthrowing the government". The trial, known as the "UAE 94"trial, was condemned by the international community for its lack of fairness and due process.
The United Arab Emirates are since its foundation member of the United Nations. On this very moment they are member of the United Nations Human Rights Council. In 1990 the Eighth United Nations Congress on the Prevention of Crime and theTreatment of Offenders adopted the Basic Principles of the Role of Lawyers.
Article 23 says: Lawyers like other citizins are entitled to freedom of expression, belief, association and assembly. In particular, they shall have the right to take part in public discussion of matters concerning the law, the administration of justice and the promotion and protection of human rights and to join or form local, national or international organizations and attend their meetings, without suffering professional restrictions by reason of their lawful action or their membership in a lawful organization. This is exactly what mr. al-Roken did, he took part in the public discussion of matters concerning the law, the administration of justice and the protection of human rights and asked to perform the law , but although the Emirates are member of the Human Rights Council, they don't subscribe the rules.
May this Prize wake up the government of the United Arab Emirates to secure the rights of their citizins and lawyers and give a sign by an immidiate and unconditional release of mr. al-Roken…." See Full text in pdf here
Extraits du Discours de Monsieur le Président Corrado de MARTINI, au nom de l'Union Internationale des Avocats (UIA),
<![if !vml]>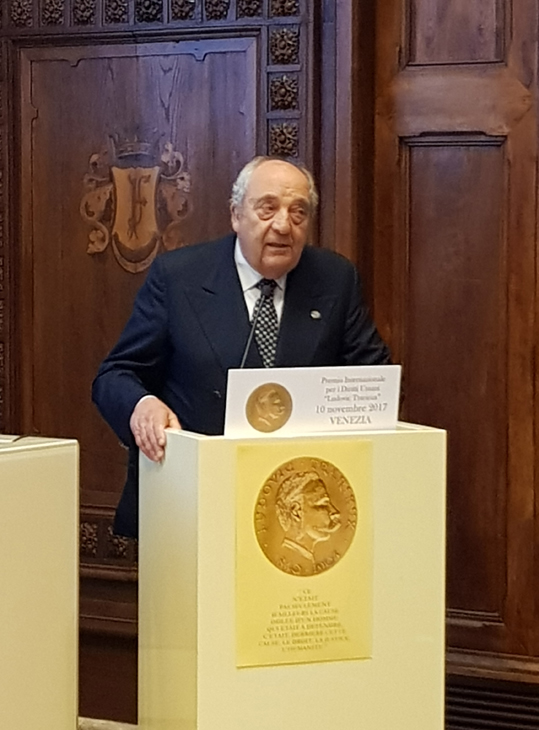 <![endif]>  "Etre avocats ouvre les yeux sur toutes les injustices dans la société" Si on décide de s'opposer aux injustices, ou simplement de garantir la défense d'un accusé - qui est quand même un droit pour tout accusé - en réalité on crée des obstacles que les régimes et les gouvernements "forts" ne peuvent pas accepter.
Al-ROKEN a subi le destin de tous les avocats qui prétendent de faire respecter les Droits Humains, quelle que soit la forme du gouvernement et les caractéristiques de l'Etat.
Ce Prix nous rappelle :
- qu'on ne peut pas cesser de défendre les Droits Humains et en particulier le droit de défense et le droit à un procès équitable
- qu'il faut continuer à être présents et actifs
- qu'il faut - finalement - continuer à croire que ce monde peut devenir meilleur de ce qu'il est maintenant..See Full text in pdf here
Extraits du Discours de Monsieur le bâtonnier Grégoire MANGEAT, au nom de L'Ordre de Avocats de Genève)
<![if !vml]>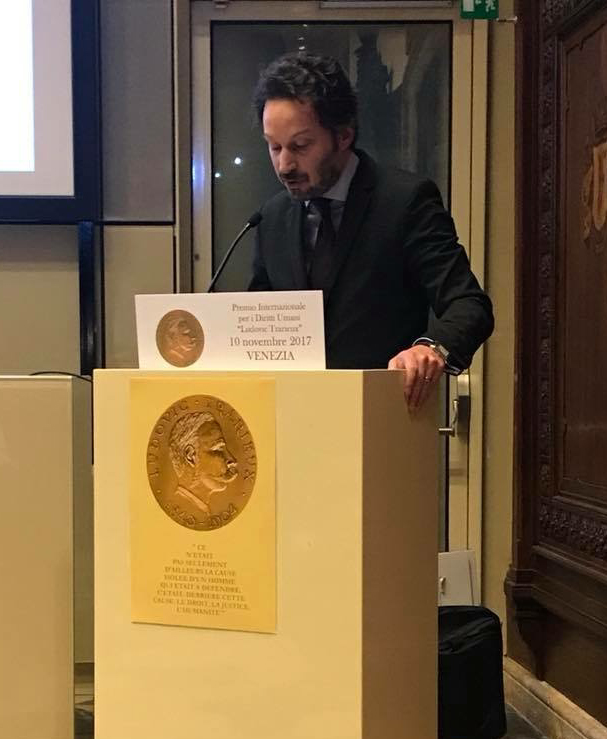 <![endif]> Dans ces obscurcissements la voix des avocats compte plus que jamais. Elle est importante. Nous devons continuer de l'exprimer avec force.
Contre la piteuse reculade de l'intelligence critique.
Contre les narrations empoisonnées.
Contre les approximations vaporeuses.
Contre les enfumages qui précèdent les trahisons.
Contre les outrances que commandent désormais les séductions.
Contre la montée des post-vérités judiciaires, qui nous invitent à préférer l'erreur qui plaît à la réalité qui dérange.
Nous voilà tous investis d'un double rôle : celui de défendre les avocats qui, comme Mohammed Al-Rocken, sont empêchés, malmenés, persécutés, quand ils ne sont pas assassinés, sur les champs crépusculaires des droits humains.
Mais nous voilà également investis du rôle de défenseur de l'essentiel, chez nous, là où tout devrait être a priori plus facile.
Nous voilà, nouveaux avocats à contre-courant qu'appellent les circonstances du moment. .See Full text in pdf here
Extracts of a Speech by Monsieur le Bâtonnier SCULIER, (on behalf of Brussels French Bar Association)
<![if !vml]>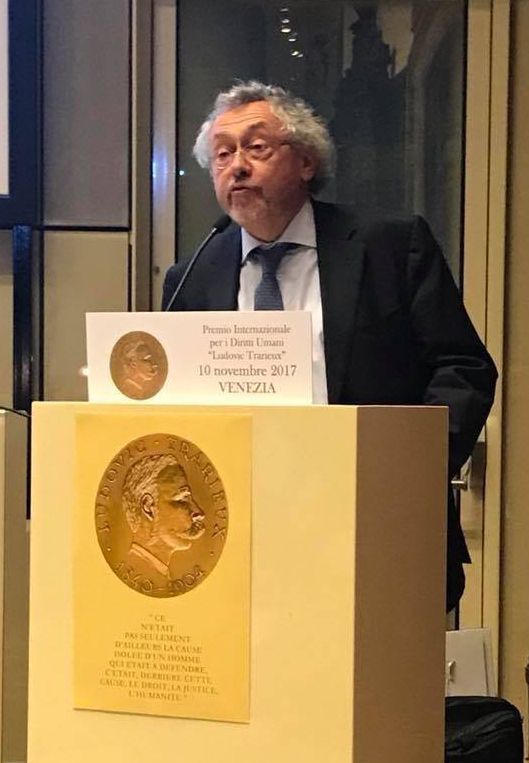 <![endif]> « Loin de la lumière, Me al-Roken est plongé dans les ténèbres.
Ténèbres d'un pouvoir politique qui se reconnaît les valeurs universelles dont j'ai fait l'état.
Ténèbres d'une justice partiale et sourde.
Ténèbres d'une décision injuste, attentatoire à sa liberté, à son intégrité physique, à sa profession.
Ténèbres d'une prison cruelle où les conditions de détention sont indignes.
Mais dans ces ténèbres luit une lumière, en vérité une immense lumière, porteuse d'espoir et de dignité humaine.
Cette lumière c'est Me al-Roken qui l'incarne. » See Full text in pdf here
Mr  Basile ADER (on behalf of Paris Bar Association)
<![if !vml]>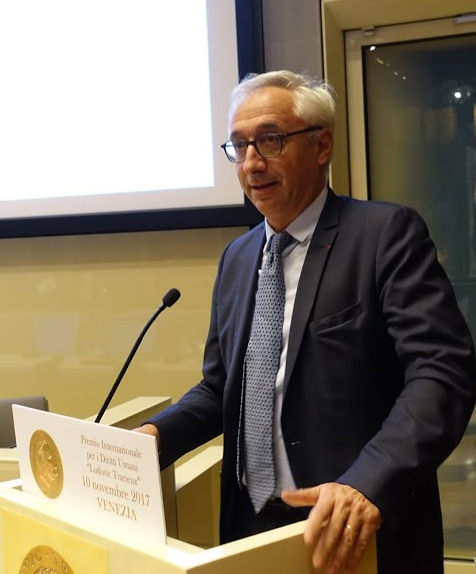 <![endif]>  Je suis très heureux de prendre la parole aujourd'hui et de représenter mon Barreau, le Barreau de Paris, qui par son Institut des droits de l'Homme, est un des membres fondateurs de la Convention ...
Le Barreau de Paris a toujours été très présent auprès des avocats en danger car la défense est universelle.
Et nous, Avocats parisiens, nous pouvons aujourd'hui exercer notre métier en quasi-pleine sécurité, nous avons beaucoup d'admiration pour nos confrères et dans tant de pays du monde encore, risquent leur liberté, voire leur vie, par le simple fait qu'ils exercent leur métier.
Nous rendons donc hommage à notre confrère Mohammed al-Roken, qui est aujourd'hui emprisonné à Abu Dhabi, depuis 5 ans, parce qu'il a eu le courage de défendre des opposants politiques.
Son nom vient s'inscrire sur une liste magnifique dont le premier, faut-il le rappeler, est Nelson Mandela…See Full text in pdf here
Speech on the Recepient
By
Mr Bertrand FAVREAU
(Président du Jury)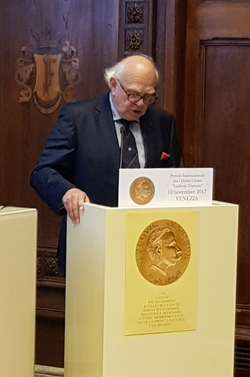 See Full text in pdf here
Acceptance Speech
Since Mohammed Al-Roken, who is serving a ten-year sentence in the United Arab Emirates (UAE), was unable to accept the prestigious award, Mohammed Al-Saqer, a colleague from the now-dissolved Association of Jurists, who was himself sentenced  to five years in prison in absentia,  accepted it on his behalf.
In his speech, Mohammed Al-Saqer called Mohammed Al-Roken  "a man of principles who defends the human and civic rights of all people." He noted that Dr. Al-Roken was a brave lawyer who would take on cases known to be "dangerous" to defend, because he was "the only one who will accept this challenge and he is paying now for all that with his freedom."
He continued, "Mohammed Al-Roken did not work for fame, but was working to defend the voiceless, the poor people, and citizens in order to deliver the rights to those who deserve to have it. He is a person who looked at the needs of people more than a lawyer seeking fame or money, and some of those whose cases he took said after his arrest that he refused to take any money from them for his work.
Mohammed Al-Roken was arrested on 17 July 2012, just after his son and his daughter's husband were arrested as part of a round-up of activists, including prominent human rights defenders, judges, academics, and student leaders. Mohammed Al-Roken was among many others who were held in secret detention centres and subjected to torture after being placed in solitary confinement for months, uninterrupted light, high cold, beatings and many violations by the State Security Apparatus.
On 4 March 2013, the government commenced the mass, unfair trial of 94 defendants before the State Security Chamber of the Federal Supreme Court in Abu Dhabi in case that came to be known as the UAE94. The government accused them of "establishing an organisation that aimed to overthrow the government," a charge which they all denied. On 2 July 2013, the court convicted 69 of the defendants sentencing them with up to 15 years in prison. Mohammed Al-Roken was sentenced to 10 years, and Al-Saqer to five years in prison in absentia. Their trials were widely condemned as lacking the minimum international standards of fair trial and due process.
Mohammed Al-Roken is currently in al-Razeen prison, where his movement and communications are controlled. Family visits take place behind glass barriers, and he has been held in solitary confinement without any justification whatsoever. His books and papers have also been confiscated. Dr. Al-Roken has said, "We are treated here like hostages held by the kidnappers and not as prisoners governed by the law."
Mohammed Al-Saqer concluded his speech by asking participants at the award ceremony to call on the government of the UAE to release Mohammed Al-Roken and all prisoners of conscience.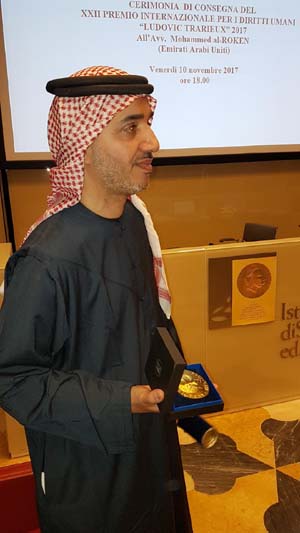 All speeches onYoutube :
<![if !supportLineBreakNewLine]>
<![endif]>
Ludovic Trarieux Prize
"The international tribute by lawyers to a lawyer"
See the award ceremony on Youtube :
<![if !supportLineBreakNewLine]>
<![endif]>
32 years after Nelson Mandela Mohammed al Roken winner of the Ludovic Trarieux prize 2017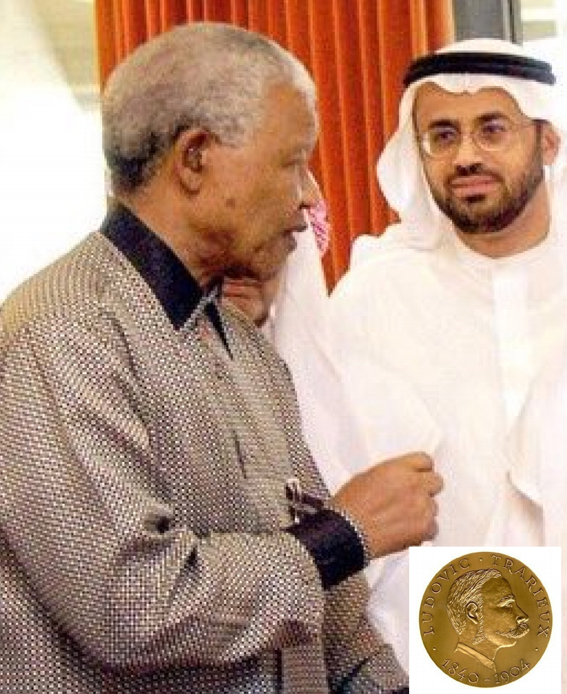 A Jury composed of 27 european lawyers coming from the bars of Paris, Bordeaux, Amsterdam, Berlin, Brussels, Geneva, Luxemburg, Roma, Athens, Venice Venezia together with the European Bar Human Rights Institute (IDHAE) and the Union Internationale des Avocats (UIA) meeting in Academie de France, in Villa Medicis in Rome, on May 27th 2017, awarded the 22nd  prestigious Ludovic trarieux Human Rights Prize to lawyer Mohammed al-Roken (United Arab Emirates).
In electing  Mohammed al-Roken, the jury wanted to "hail the courage" of a a leading human rights lawyer who provides legal assistance to victims of human rights abuses in the UAE, including to fellow human rights defenders. He is currently serving a ten-year prison sentence as a result of a mass trial of 94 human rights defenders and political activists in the UAE.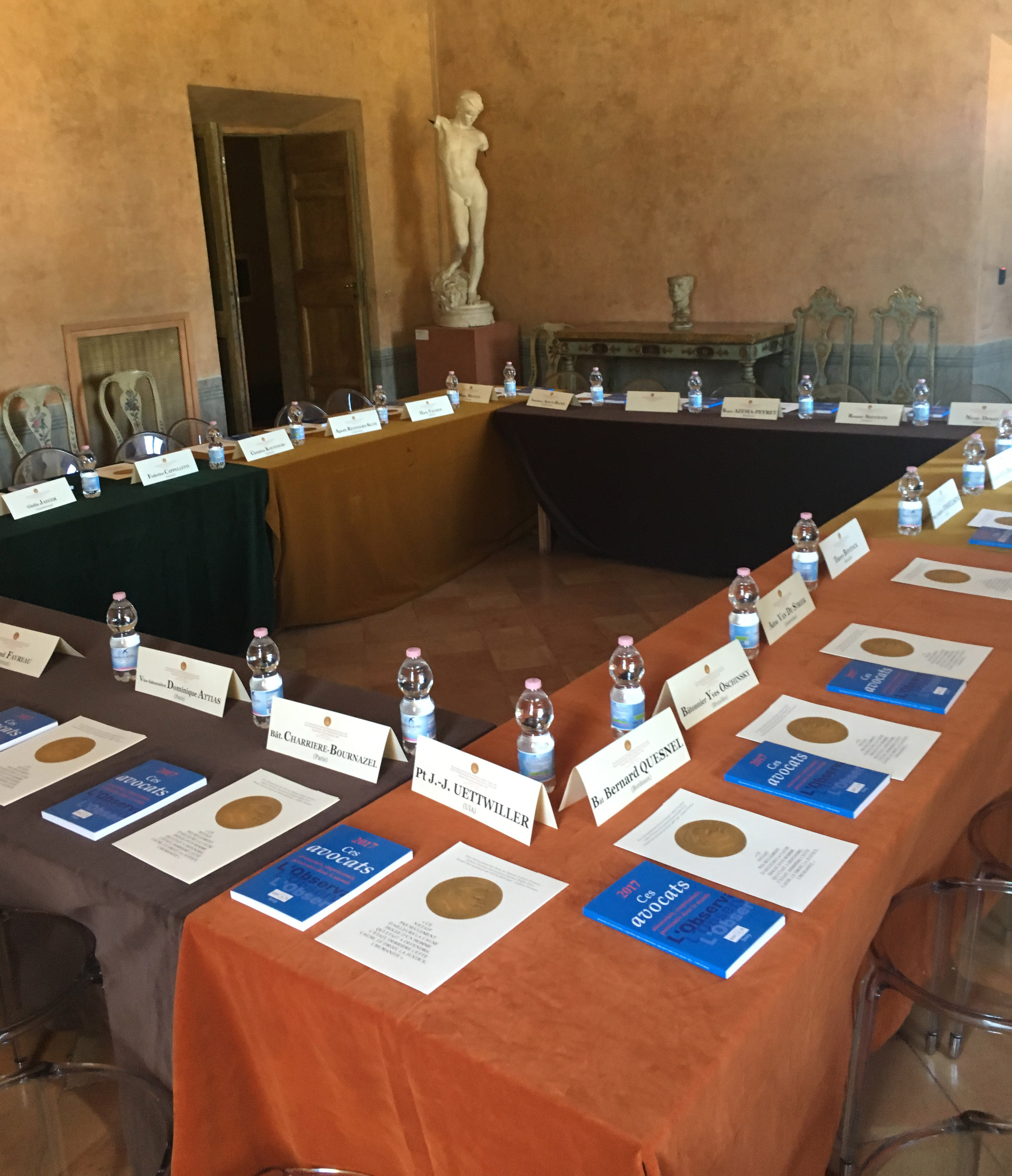 Deliberation Room 2017
MEMBRES DU JURY 2017
(President and then  alphabetic order)
President
Bertrand Favreau 
Vice-President Dominique Attias
President Christian Charriere-Bournazel 
President Grégoire Mangeat 
President Yves Oschinsky
President Bernard Quesnel
President Pierre Pierre Sculier 
President Anton Giulio Lana
President Jean-Jacques Uettwiller
Brigitte Azema-Peyret 
Laurence Azoux-Bacrie 
Thierry Bontinck 
Federico Cappelletti 
Zbigniew Cichon
Nicole Derhy
Carlos Fatás Mosquera 
Mary-Daphné Fishelson 
Clarissa Freundorfer 
Giulia Jaeger 
Christina Kountouri 
Fanny Margairaz 
Mario Melillo
Agaath S. Reijnders-Sluis 
Alessio Sangorgi 
Adrie van de Streek 
Haris Tagaras
"The tribute given by lawyers to a lawyer"
Created in 1984, the "International Human Rights Prize Ludovic -Trarieux" is awarded to " a lawyer, regardless of nationality or Bar, who thoroughout his career has illustrated, by his activity or his suffering, the defence of human rights, the promotion of defence rights, the supremacy of law, and the struggle against racism and intolerance in any form ".
It is the oldest and most prestigious award given to a lawyer in the world, commemorating the memory of the French lawyer, Ludovic Trarieux (1840-1904), who in the midst of the Dreyfus Affair, in France, in 1898, founded the " League for the Defence of Human Rights and the Citizen ", because, he said: " It was not only the single cause of a man which was to be defended, but behind this cause, law, justice, humanity ".
The first Prize was awarded on March 29th, 1985 to Nelson Mandela then in jail. It was officially presented to his daughter, Zenani Mandela Dlamini, on April 27th 1985, in front of forty presidents of Bars and Law Societies from Europe and Africa. It was the first award given to Mandela in France and the first around the world given by lawyers. On February 11th 1990, Nelson Mandela was released. Since then, it was decided that the Prize would be awarded again.
Since 2003, the Prize is awarded every year in partnership by the Human Rights Institute of The Bar of Bordeaux, the Human Rights Institute of the Bar of Paris, the Human Rights Institute of The Bar of Brussels, l'Unione forense per la tutela dei diritti dell'uomo (Roma), Rechtsanwaltskammer Berlin, the Bar of Luxemburg, the Bar of Geneva, the Bar of Amsterdam as well as the Union Internationale des Avocats (UIA), and the European Bar Human Rights Institute (IDHAE) whose members are the biggest european law societies fighting for human rights. It is presented every year in a city that is home to one of the member Institutes.
1985: Nelson MANDELA (South Africa)
1992: Augusto ZÚÑIGA PAZ (Peru) †
1994: Jadranka CIGELJ (Bosnia-Herzegovina)
1996 Nejib HOSNI (Tunisia) and Dalila MEZIANE (Algeria).
1998 ZHOU Guoqiang (China)
2000 Esber YAGMURDERELI (Turkey)
2002 Mehrangiz KAR (Iran)
2003 Digna OCHOA and Bárbara ZAMORA (Mexico)
2004: Akhtam NAISSE (Syria)
2005: Henri BURIN DES ROZIERS (Brazil)
2006: Parvez IMROZ (India)
2007 : René GÓMEZ MANZANO (Cuba)
2008 : U AYE MYINT (Burma)
2009 : Beatrice MTETWA (Zimbabwe)
2010 : Karinna MOSKALENKO (Russia)
2011 : Fethi TERBIL (Libya)
2012 : Muharrem ERBEY (Turkey)
2013 : Vadim KURAMSHIN (Kazakhstan)
2014 : Mahienour el-MASSRY (Egypt)
2015 : Waleed Abu al-KHAIR (Saudi Arabia)
2016: WANG Yu (China)