INSTITUT DES DROITS DE L'HOMME DU BARREAU DE BORDEAUX
HUMAN RIGHTS INSTITUTE OF THE BAR OF BORDEAUX

INSTITUT DES DROITS DE L'HOMME DU BARREAU DE BRUXELLES
BRUSSELS BAR HUMAN RIGHTS INSTITUTE

INSTITUT DES DROITS DE L'HOMME DU BARREAU DE PARIS
HUMAN RIGHTS INSTITUTE OF THE BAR OF PARIS

INSTITUT DES DROITS DE L'HOMME DES AVOCATS EUROPEENS
EUROPEAN BAR HUMAN RIGHTS INSTITUTE

UNIONE FORENSE PER LA TUTELA DEI DIRITTI DELL'UOMO
INSTITUTE FOR THE DEFENCE OF HUMAN RIGHTS OF THE ITALIAN BAR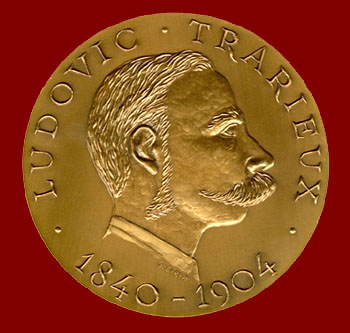 Ludovic-Trarieux International Human Rights Prize 2009
Prix International des droits de l'homme Ludovic-Trarieux 2009
Premio Internacional de Derechos Humanos Ludovic Trarieux 2009
Internationalen Ludovic-Trarieux-Menschenrechtspreis 2009
Prêmio Internacional de Direitos Humanos Ludovic Trarieux 2009
Premio Internazionale per i Diritti Umani Ludovic Trarieux 2009
Ludovic Trarieux Internationale Mensenrechtenprijs 2009

<![if !supportLineBreakNewLine]>
<![endif]>

<![if !supportLineBreakNewLine]>
<![endif]>
Since 1984
First African Prize Winner since Nelson Mandela jailed in 1985.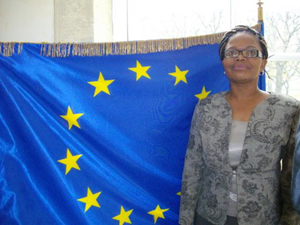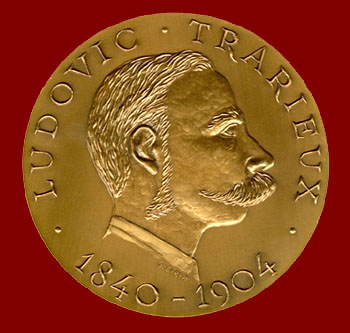 Beatrice Mtetwa (ZIMBABWE)
Ludovic-Trarieux International Human Rights Prize 2009
Ms. Beatrice Mtetwa from Zimbabwe, a lawyer devoted to defending the rights of freedom of the press in her country, received at the Bar Association in Paris, the 14th INTERNATIONAL HUMAN RIGHTS LUDOVIC-TRARIEUX 2009 AWARD for her trailblazing role in defending freedom of peaceful assembly ,  of association and  freedom of speech and the rule of law in Zimbabwe.
<![if !supportLineBreakNewLine]>
<![endif]>
Speeches by
Mr Jean CASTELAIN, Bâtonnier désigné de l'Ordre des Avocats de Paris
De Monsieur Jean-Yves LEBORGNE, Vice bâtonnier

 

de l'Ordre des Avocats de Paris
Mr Jean-Pierre BUYLE, Bâtonnier désigné de l'Ordre du Barreau de Bruxelles, Institut des droits de l'homme du Barreau de Bruxelles
 

Et de Mr Jean-François JUILLIARD, Secrétaire Général de Reporteurs sans Frontières.
Discours
Mr Bertrand FAVREAU, Président

 

de l'Institut des droits de l'Homme des Avocats Européens.
Remise du Prix à Madame Béatrice MTETWA
Paris. Maison du Barreau. 29 October 2009 .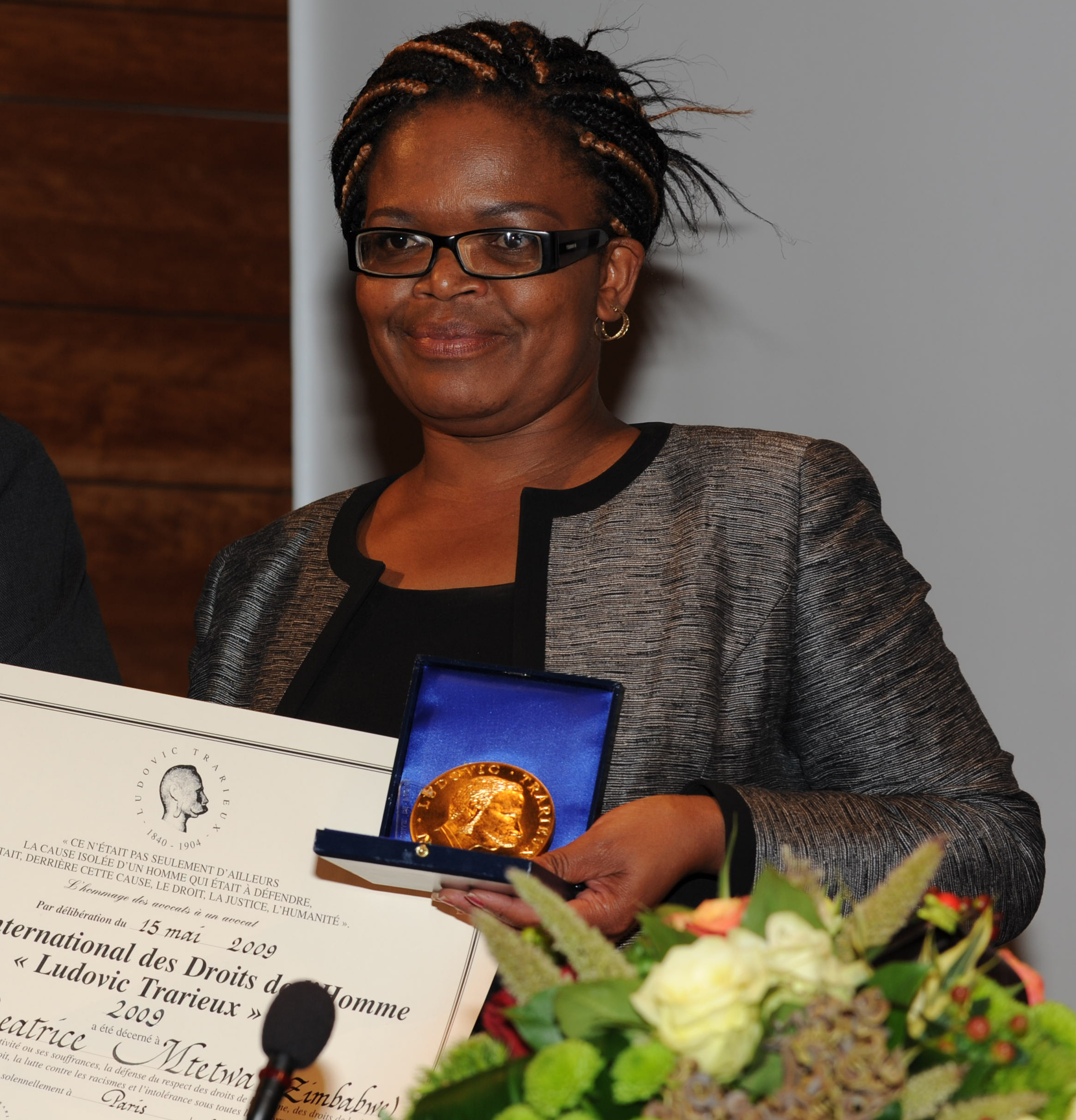 Speeches for the Prizewinning Ceremony in pdf (Excerpts from Annonces de la Seine n° 61)
VOTE OF THANKS
de
Mrs Beatrice MTETWA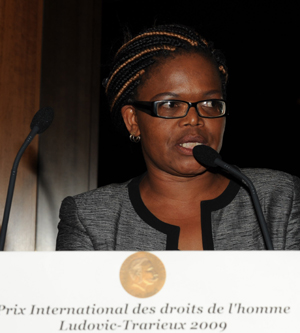 I would like to thank the organizers of this event and those responsible for my selection as the 2009 recipient of this prestigious award. 
My nomination for this award demonstrates that the defence of human rights knows no culture, language barriers, continental locations or other differences.  My nomination therefore serves to confirm the universality of human rights and those who argue, particularly in Africa, that Human Rights are a Eurocentric concept do so from a perspective where they want Africans to enjoy a lesser standard of human rights than their counterparts elsewhere. 
I would like to accept this award on behalf of all human rights defenders in Zimbabwe and to say that I hope that it will help inspire us into greater heights despite the upsurge in the harassing of civil society activists and human rights defenders in recent weeks.  I would also like to thank all of you and your various Bars and Law Societies for the support that human rights defenders have received in Zimbabwe.  Without your support, our job would have been that more difficult. 
I would also like to thank my family, particularly my daughter who is here with me today, for enduring all those sleepless nights and seeing my body bruised from time to time.  Awards like this and also having victims' rights restored all make the work worthwhile.
Thank you.
1984-2009

Created in 1984, the "International Human Rights Prize Ludovic Trarieux" is awarded to " a lawyer, regardless of nationality or Bar, who thoroughout his career has illustrated, by his activity or his suffering, the defence of human rights, the promotion of defence rights, the supremacy of law, and the struggle against racism and intolerance in any form ".
It is the oldest and most prestigious award given to a lawyer in the world, commemorating the memory of the French lawyer, Ludovic Trarieux (1840-1904), who in the midst of the Dreyfus Affair, in France, in 1898, founded the " League for the Defence of Human Rights and the Citizen ", because, he said: " It was not only the single cause of a man which was to be defended, but behind this cause, law, justice, humanity ".
The first Prize was awarded on March 29th, 1985 to Nelson Mandela then in jail. It was officially presented to his daughter, Zenani Mandela Dlamini, on April 27th 1985, in front of forty presidents of Bars and Law Societies from Europe and Africa. It was the first award given to Mandela in France and the first around the world given by lawyers. On February 11th 1990, Nelson Mandela was released. Since then, it was decided that the Prize would be awarded again.
Since 2003, the Prize is awarded every year in partnership by the Human Rights Institute of The Bar of Bordeaux, the Human Rights Institute of the Bar of Paris, the Human Rights Institute of The Bar of Brussels, l'Unione forense per la tutela dei diritti dell'uomo (Roma) and the European Bar Human Rights Institute (IDHAE) whose members are the biggest european law societies fighting for human rights such as The Union Internationale des Avocats (UIA),  Rechtsanwaltskammer Berlin, Ordre français des Avocats du barreau de Bruxelles, barreau de Luxembourg or Polish National Council of the Bar (Warsaw). It is presented every year in a city that is home to one of the member Institutes.
1985: Nelson MANDELA (South Africa)
1992: Augusto ZÚÑIGA PAZ (Peru) †
1994: Jadranka CIGELJ (Bosnia-Herzegovina)
1996 Nejib HOSNI (Tunisia) and Dalila MEZIANE (Algeria).
1998 ZHOU Guoqiang (China)
2000 Esber YAGMURDERELI (Turkey)
2002 Mehrangiz KAR (Iran)
2003 Digna OCHOA and Bárbara ZAMORA (Mexico)
2004: Akhtam NAISSE (Syria)
2005: Henri BURIN DES ROZIERS (Brazil)
2006: Parvez IMROZ (India)
2007 : René GÓMEZ MANZANO (Cuba)
2008 : U AYE MYINT (Burma)