INSTITUT DES DROITS DE L'HOMME DU BARREAU DE BORDEAUX
HUMAN RIGHTS INSTITUTE OF THE BAR OF BORDEAUX

INSTITUT DES DROITS DE L'HOMME DU BARREAU DE BRUXELLES
BRUSSELS BAR HUMAN RIGHTS INSTITUTE

INSTITUT DES DROITS DE L'HOMME DU BARREAU DE PARIS
HUMAN RIGHTS INSTITUTE OF THE BAR OF PARIS

INSTITUT DES DROITS DE L'HOMME DES AVOCATS EUROPEENS
EUROPEAN BAR HUMAN RIGHTS INSTITUTE

UNIONE FORENSE PER LA TUTELA DEI DIRITTI DELL'UOMO
ROMA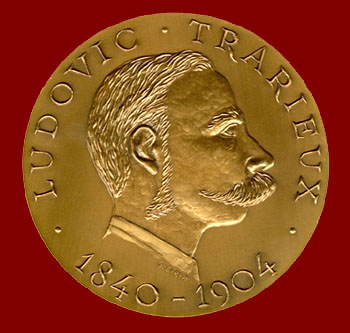 THE LUDOVIC TRARIEUX AWARD 2008
Prix International des droits de l'homme Ludovic-Trarieux 2008
Ludovic-Trarieux International Human Rights Prize 2008
Premio Internacional de Derechos Humanos Ludovic Trarieux 2008
Internationalen Ludovic-Trarieux-Menschenrechtspreis 2008
Prêmio Internacional de Direitos Humanos Ludovic Trarieux 2008
Premio Internazionale per i Diritti Umani Ludovic Trarieux 2008
Ludovic Trarieux Internationale Mensenrechtenprijs 2008
Since 1984
<![if !supportEmptyParas]> <![endif]>
U Aye Myint (BURMA)
Ludovic-Trarieux International Human Rights Prize 2008

In a meeting on May 17th 2008 in Luxemburg, the Jury of 21 european lawyers awarded the 13th International Human Rights Prize "Ludovic Trarieux" 2008 ("The award given by lawyers to a lawyer") to burmese labour lawyer (Myanmar)
The award was presented personally to Prize winner in secret in Rangoon in September 2008, by Mr Mario Lana, president of Unione Forense per la Tutela dei diritti umani (UFTDU), and then presented in abstentia on October 22nd, 2008 in the Italian Senate, by Sra Emma Bonino, vice presidente of the Italian Senate.(Photo UFTDU). ((Prize Winning Ceremony 2008 on Youtube.)
**Roma 22nd October 2008 - Emma Bonino congatulates Prize winner's representative after presenting the Award 2008, "The most prestigious Prize awarded to a lawyer in Europe".
<12.0pt color:>Lawyer U Aye Myint (alias Aye Myint Maung) and eight other persons were arrested on 17 July 2003 by members of the Military Intelligence and charged under section 122 of the Penal Code for High Treason for their antigovernment activities.
On 28 November, a Yangoon Martial Court held inside Insein prison convicted and sentenced to death U Aye Myint (alias Aye Myint Maung) and eight other persons.
They were convincted on 28 November 2003 by a under article 122/1 of the law for high treason for supposedly trying to murder the leaders of the SDPC. The nine were also accused of having contacts with political organizations in exile partly on the basis that he had communicated with the ILO. The others were Zaw Thet Htwe, Zaw Zaw, Zar Naing Htun (a student), Ne Win, Naing Yekkha (a political activist from New Mon State Party, also known as Shwe Mann), Than Htun, Myo Htway and Nai Min Kyi. Than Htun was released without explanation in December. His family said he was arrested by mistake.
One of the group died in detention after also being sent to Insein prison.
After pressure by International Labour Organisation (ILO), the death sentence was commuted to three years' imprisonment, for treason. U Aye Myint was released in January 2005. But two New Mon State Party members Naing Yakkha and Naing Kyin Kaung are today serving life sentences in Rangoon's Insein prison after being arrested for allegedly reporting military abuse to the International Labour Organization and for planting a bomb.
In 2005, Aye Myint, a labour lawyer, had brought to the attention of the ILO the complaints of residents in Phanungdawthi village tract who claimed their land had been seized by the military. Authorities alleged that he provided incorrect and false information in the complaint and arrested him on 27 August 2005. He was charged with violating section 5 (e) of the catch-all Emergency Provisions Act Lawyer U Aye Myint was sentenced to seven years' imprisonment allegedly for helping farmers report to the authorities and the ILO that local officials had confiscated their land. Because of his conviction, government authorities acted on 13 May 2006 to strip him of his licence to practice law and ensured his dismissal from the Bar Council, in contravention to Council regulations.The ILO made the release of Aye Myint an explicit condition of continued cooperation with Burma, and set a deadline for his release.
The ILO had given the authorities in Burma until the end of July to release Aye Myint, who had helped lodge a complaint to ILO staff, or face strong international legal action. Aye Myint has said that he will continue to take up rights-related cases, but it is unclear at this stage whether his licence to practice law will be returned to him or not. The SPDC finally released Aye Myint on 8 july 2006 from prison after serving 11 months of a seven year sentence after strenuous international pressure and attention. But at year's end, his licence had still not been returned to him. Before being released Aye Myint was required to sign a document that if he commits any further offence in the remaining period of his sentence (six years and one month) then he will be returned to prison and required to serve out the full term.
On May 10, 2007 U Aye Myint, provides legal aid to more than 100 Naypyidaw construction workers planning to file a complaint with the International Labour Organization, claiming the In Arr Htet company failed to pay them more than 3.6 million kyats-worth of wages. The In Arr Htet company hired engineer Ko Moe Kyaw Latt to head the construction of three buildings in Burma's new capital. After hiring more than 100 workers and starting construction, the company called off the project and refused to pay any wages to Ko Moe Kyaw Latt or the hired construction workers. U Aye Myint said the workers responded by occupying the former construction site in protest. "If grassroots people in Burma, such as the workers and farmers are insulted, they shouldn;t just feel dejected. They should report it... We won't just stand by," U Aye Myint said.
Recently, on January 15, 2008, U Aye Myint, as a leader of the Guiding Star legal aid group, is handling complaints from a group of farmers in Baw Ne village who claim they were forced to cultivate an area of scrubland along the Rangoon-Mandalay road. Villagers cultivated land promised to them by local officials and after they had worked the land during the rainy season, they were informed that the land was owned by a relative of junta leader senior general Than Shwe. They were charged under section 447 of the penal code for criminal trespass in a hearing at Dike Oo township court on 28 December 2007 and now face imprisonment. U Aye Myint is now finding witnesses and preparing evidence from the jailed villagers' family members in order to help the villagers bring a forced labour complaint to the International Labour Organisation and report the matter to senior general Than Shwe.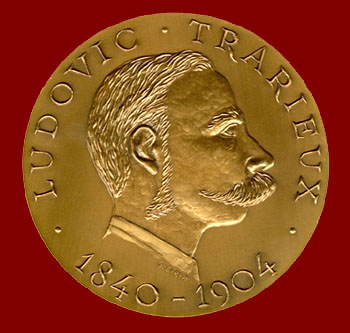 Send Congratulations to U Aye Myint for the Award
Created in 1984, the "International Human Rights Prize Ludovic Trarieux" is awarded to " a lawyer, regardless of nationality or Bar, who thoroughout his career has illustrated, by his activity or his suffering, the defence of human rights, the promotion of defence rights, the supremacy of law, and the struggle against racism and intolerance in any form ".
It is the oldest and most prestigious award given to a lawyer in the world, commemorating the memory of the French lawyer, Ludovic Trarieux (1840-1904), who in the midst of the Dreyfus Affair, in France, in 1898, founded the " League for the Defence of Human Rights and the Citizen ", because, he said: " It was not only the single cause of a man which was to be defended, but behind this cause, law, justice, humanity ".
The first Prize was awarded on March 29th, 1985 to Nelson Mandela then in jail. It was officially presented to his daughter, Zenani Mandela Dlamini, on April 27th 1985, in front of forty presidents of Bars and Law Societies from Europe and Africa. It was the first award given to Mandela in France and the first around the world given by lawyers. On February 11th 1990, Nelson Mandela was released. Since then, it was decided that the Prize would be awarded again.
Since 2003, the Prize is awarded every year in partnership by the Human Rights Institute of The Bar of Bordeaux, the Human Rights Institute of the Bar of Paris, the Human Rights Institute of The Bar of Brussels, l'Unione forense per la tutela dei diritti dell'uomo (Roma) and the European Bar Human Rights Institute (IDHAE) whose members are the biggest european law societies fighting for human rights such as The Law Society of England and Wales, Rechtsanwaltskamme Berlin, Ordre français des Avocats du barreau de Bruxelles, barreau de Luxembourg or Polish National Council of the Bar (Warsaw). It is presented every year in a city that is home to one of the member Institutes.
1985: Nelson MANDELA (South Africa)
1992: Augusto ZÚÑIGA PAZ (Peru) †
1994: Jadranka CIGELJ (Bosnia and Herzegovina)
1996 Najib HOSNI (Tunisia) et Dalila MEZIANE (Algeria)
1998 : ZHOU Guoqiang (China)
2000 : Esber YAGMURDERELI (Turkey)
2002 : Mehrangiz KAR (Iran)
2003 : Digna OCHOA et Bárbara ZAMORA (Mexico).
2004 : Akhtam NAISSE (Syria)
2005 : Henri BURIN DES ROZIERS (Brazil)
2006: Parvez IMROZ (India)
2007 : René GÓMEZ MANZANO (Cuba)
2008: U AYE MYINT (Burma)


Top of the page

12.0pt>